The official announcement of Kyu's solo album is out!!
Source: B2M Kyu's Official Webby
Chinese Trans: http://www.kimkyujong.cn
English Trans: http://cllslam10.blogspot.com
Pls repost with credits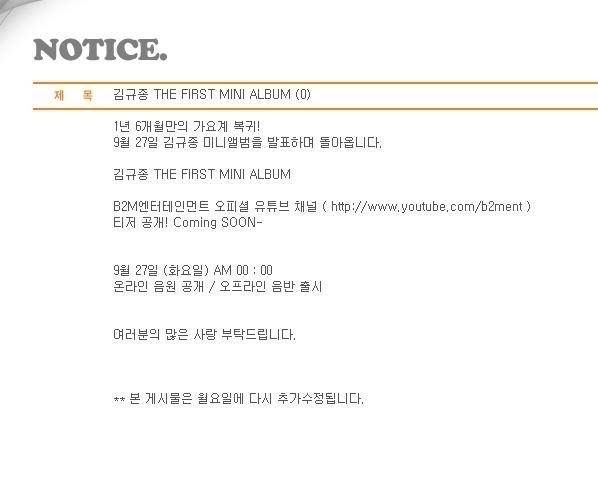 Comeback to the music scene after 1 year & 6 months.
Kim Kyu Jong returns with a mini solo album on 27 Sep.

Kim Kyu Jong THE FIRST MINI ALBUM
B2M Entertainment Official YouTube Channel


(
http://www.youtube.com/b2ment
)


Teaser broadcast! Coming Soon!

27 Sep (Tue)AM 00:00 Online audio release / Digital album marketed

Hope everyone support.

**This announcement will have an additional correction on Monday.
Update on 19 Sep 2011, 1315hrs
The teaser pics of Kyu Jong for his new album is out!!