Credit: CRISPINA MARTINEZ-BELEN of
Manila Bulletin Publishing Coporation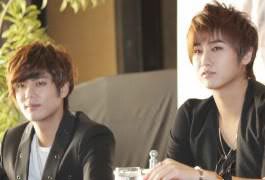 MANILA, Philippines – South Korea's poster boys and members of SS501 Kyu Jong and Young Saeng are coming for a pre-Valentine show and a meet-and-greet session with local fans Saturday, Feb. 5 at the PICC's Forum 2.
Kyu Jong and Young Saeng have indeed come a long way since SS501 gained prominence in the Asian market several years ago. Young Saeng serves is the vocal backbone of SS501 known for its strength and clarity while Kyu Jong sings the integral middle vocals for the group. The popularity of SS501 (double S 501) skyrocketed after their leader Kim Hyun Joong gained superstar status when he played a major role in the global drama "Boys Over Flowers" as Ji-Hoo.
Both superstars will be lending their stellar presence for an ongoing five-top Asian tour (Korea, Thailand, Hong Kong, Japan and Manila). The first salvo kicked off Dec. 4, 2010 in Seoul where tickets were sold out as fast as they were released; followed by Thailand, Hong Kong and Japan. Despite the high demands from other countries. The tour ends Saturday.
Kyu Jong and Young Saeng who are touring for their Asian fans for the first time after signing up with B2M Entertainment (an artist agency owned by fellow artist-singer Lee Hyori), will showcase private video clips taken from their holiday trips, breaks, and about their daily lives for those who will attend Saturday's event at the PICC's The Forum at 6:30 p.m. After the tour, Young Saeng will release a new album while Kyu Jong will concentrate on Koreanovelas.
This event is made possible by Greenlights Events & Productions Phils., Inc. in cooperation with B2M Entertainment and Mays Entertainment and the official residence, Sofitel Philippine Plaza Manila and in part by Audi, Del Monte Fit & Right and PKCI. Media Partners are ABS-CBN, MYX, Summit Media, Mellow 94.7, Tambayan 101.9, 103.5 WOW FM, Seoul FM, DKPOP News, Odyssey Music & Video, Odyssey Live and Manila Concerts Scene.
For inquiries, log on to
http://www.ticketworld.com.ph/
and
http://www.kyusaengstoryinmanila.com/