Jungminnie vs MBLAQ in Dance Battle? Why a Soloist vs boyband? Shdnt it be soloist vs soloist? Like that not fair to our Jungminnie... ><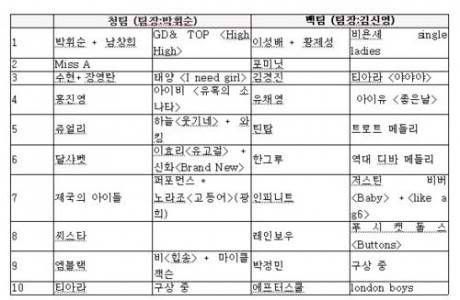 This annual program is known for delivering hilarious and astounding stages with Korea's hottest idols and stars. The show's lineup has recently been revealed, with the dance battle will being divided into its two usual teams: the Blue Team (led by Park Hwisoon) and the White Team (led by Kim Shinyoung).
Check out the lineup below!
–
***[LEFT: Blue Team || RIGHT: White Team]***
Round 1: Park Hwisoon & Nam Changhee ('High High') vs. Lee Sungbae & Hwang Jaesung ('Single Ladies')
Round 2: Miss A vs. 4minute
Round 3: Soohyun & Jang Youngran ('I Need A Girl') vs. Kim Kyungjin ('Yayaya')
Round 4: Hong Jinyoung ('Sonata of Seduction') vs. Yoo Chaeyoung ('Good Day')
Round 5: Jewelry ('Funny' + Wacking [type of dance]) vs. Teen Top (Trot medley)
Round 6: Dal Shabet ('U-Go-Girl' & 'Brand New' ) vs. Han Groo ('Diva medley')
Round 7: ZE:A (performance + 'Mackerel' by Kwanghee) vs. INFINITE ('Baby' + 'Like a G6')
Round 8: SISTAR vs. Rainbow ('Buttons')
Round 9: MBLAQ ('Hip Song' + 'Michael Jackson tribute') vs.
Park Jungmin (in process)
Round 10: T-ara (in process) vs. After School ('London Boys')